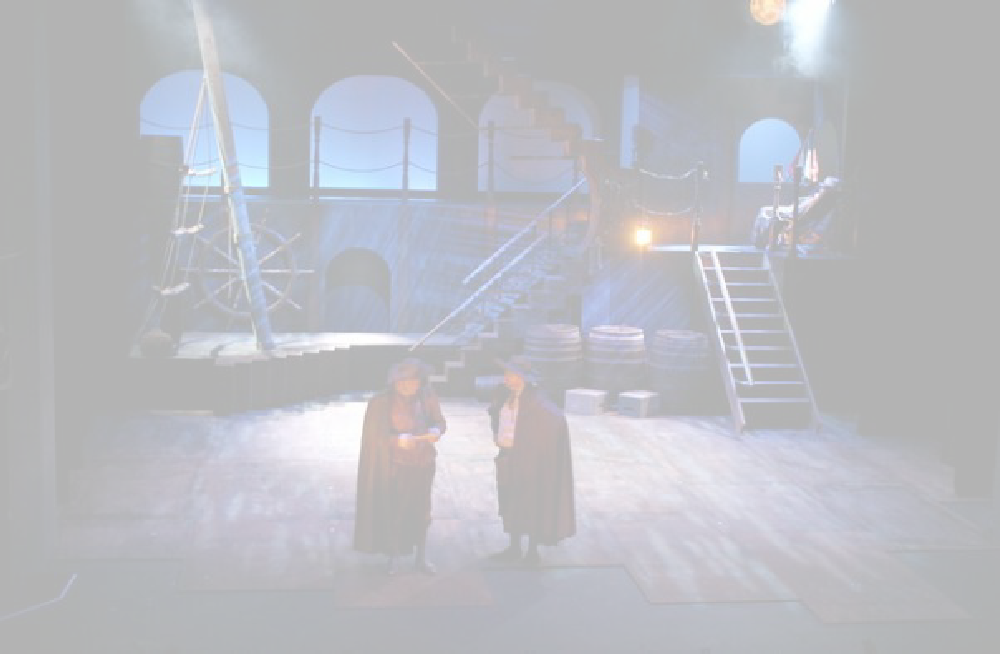 AME - HPC Theatre
4 Place du 25e Léger, Amélie-les-Bains 66110 France
Tel: 00 33 (0)6 24 65 00 15 Mail: hpctheatre@yahoo.co.uk
Projects with young people

We were invited by Bluecoat School, in Gloucestershire, UK, to lead a project combining Shakespeare with the annual Christmas play. The result was A Winter's Tail - an intriguing cross between A Midsummer Night's Dream and the nativity story. We spent time with the year 6 pupils working on props, costumes and performance. Contact us for the script! The following year we were invited back to work similar magic combining Christmas and storytelling.

While in Jersey, we worked closely with the young people's theatre group, Stomp. As well as running workshops, we directed and designed productions of Honk! and Alice in Wonderland, a musical for which we created a number of new songs with MD Peter Roberts.

In 2009 we spent time with the Lyme Youth Theatre in Dorset. One of the results was Cinema Lyte, a production cramming a thousand-ish films into 55 crazy minutes on stage.
Over the years we have worked with youth clubs and community groups, schools and youth theatres. We have run workshops and creative days, done plays-in-a-day and full productions. If you'd like to know more about the kind of projects we can offer, or to take a look at a sample of a script we could produce for your group, just email us and we'd be happy to have a chat.
Nous avons été invités par Bluecoat School, en Gloucestershire, R-U, à mener un projet combinant Shakespeare et la pièce de Noël annuelle. Le résultat a été A Winter's Tail - un croisement intriguant entre le Songe d'une nuit d'été et l'histoire de la nativité. Nous avons passé du temps avec les élèves de sixième année à travailler sur les accessoires, les costumes et la représentation. Contactez-nous pour obtenir le scénario ! L'année suivante, nous avons été invités à nouveau à opérer une magie similaire en combinant Noël et les contes.
Pendant notre séjour à Jersey, nous avons travaillé en étroite collaboration avec la troupe de théâtre pour jeunes, Stomp. En plus d'animer des ateliers, nous avons dirigé et conçu des productions de Honk ! et d'Alice au pays des merveilles, une comédie musicale pour laquelle nous avons créé un certain nombre de nouvelles chansons avec le MD Peter Roberts.
En 2009, nous avons passé du temps avec le Lyme Youth Theatre du Dorset. L'un des résultats de ce travail a été Cinema Lyte, une production qui regroupe un millier de films en 55 minutes de folie sur scène.
Au fil des ans, nous avons travaillé avec des clubs de jeunes et des groupes communautaires, des écoles et des théâtres de jeunes. Nous avons organisé des ateliers et des journées créatives, des pièces de théâtre d'un jour et des productions complètes. Si vous souhaitez en savoir plus sur le type de projets que nous pouvons proposer, ou si vous voulez voir un exemple de scénario que nous pourrions produire pour votre groupe, envoyez-nous un mail et nous serons heureux de discuter avec vous.