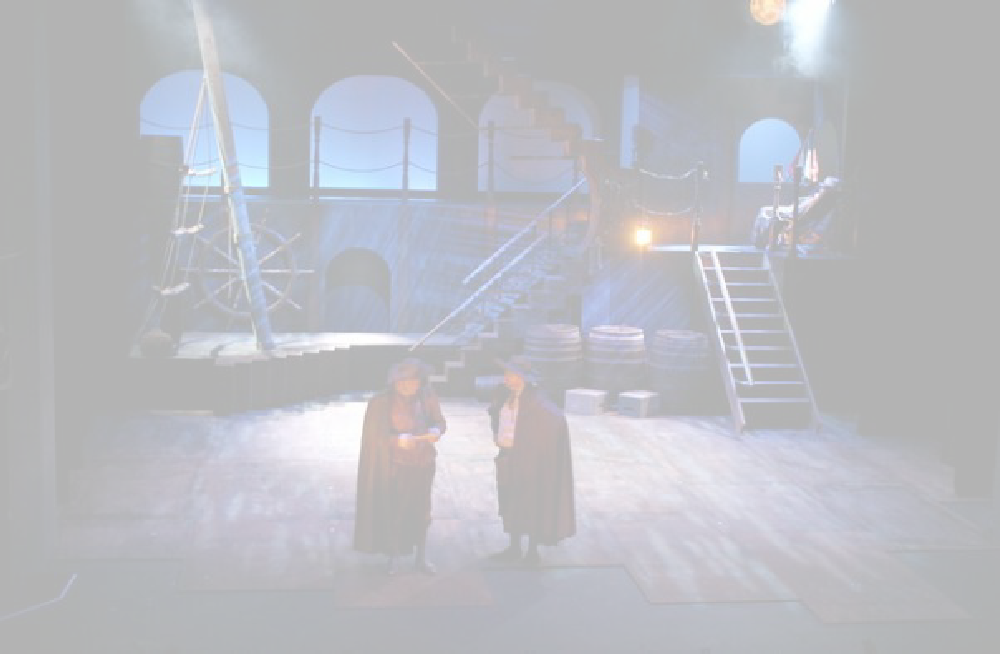 AME - HPC Theatre
4 Place du 25e Léger, Amélie-les-Bains 66110 France
Tel: 00 33 (0)6 24 65 00 15 Mail: hpctheatre@yahoo.co.uk

Grease was produced at the Jersey Opera House. Directed by Ian and with set design by Maggie, it starred Clare Buckfield and Noel Sullivan. The popular musical ran for six weeks to tremendous acclaim, attracting the Jersey Post Enterprise Award

Tom Stoppard's Rosencrantz and Guildenstern Are Dead ran at Jersey Opera House in February 2004, starring Joe Pasquale, Terry Alderton and Robert Duncan. Set by Maggie working with the Opera House team.

Staged as a fund-raising event, West End Girls raised over £20,000. A different cast each week, with three days' rehearsal, a live band and frantic weekly re-orchestrating by MD Kennedy Aitchison. Conceived by Ian, and set - with a zero budget - by Maggie and the team.

Little Shop of Horrors opened in Jersey with Tracy Shaw then transferred to Leicester's De Montfort Hall with Clare Buckfield. Directed by Ian, set by Maggie with Neil White and Kevin Cutts.

The Marine Theatre's first in-house professional production, Nickolai of the North was an adaptation by Lucy Daniel Raby of her successful children's Christmas fantasy. Ian directed and acted as dramaturg, Maggie designed the set and created the puppets.

We were commissioned to write and direct a new drama, Bright Sparks, to commemorate the coming of electricity to Lyme Regis. The result was a fast-paced, comic take on an unlikely subject

In the summer of 2012, Jersey's Samarès Players invited Ian to direct their annual outdoor Shakespeare play in the grounds of Samarès Manor. We created a production of Hamlet which was warmly received, despite the weather
Some examples of our work; click on the images for more information.
Quelques exemples de notre travail ; cliquez sur les images pour plus d'informations.